Pathfinders
"The Florida Conference Pathfinder Department exists to help families and young people come to experience life to the fullest through activities, level work, service opportunities, trips and more. The mission of our department is to: Train, Equip and Deploy an Army of Young People and to help them discover how they can play a vital role in advancing the mission of God here in Florida."
Leadership
The volunteer leadership, skilled in a myriad of unusual abilities and interests are, first and foremost, strong believers in Jesus Christ and are sure of the road they are taking towards eternal life. They consider the Pathfinder club an experimental laboratory where growth and learning are synonymous with fun. Failure is not expected, but rather all activity becomes a tool for learning.  
Activities
The imagination of its leadership and members are the primary limiting factors of a club's abilities. Activities encourage a range from community/civic service projects in their community and across the globe to nature and environmental conservation studies to camping and high adventure trips. Pathfindering challenges the unique talents of each member. Pathfindering is built on an age-specific curriculum of six levels along with approximately 350 specialized skill development topics covering arts and crafts, aquatics, nature, household arts, recreation, spiritual development, health, and vocational training. These often serve as a launching point for lifetime careers or hobbies.
Cooper City Knights Club Meetings:
Date: 1st and 3rd Sabbath of each month.
Time: 5:30 P.M. to 8 P.M. (time is subject to change depending on to the Sunset)
Address: 9250 Stirling Rd, Hollywood, FL 33024
Phone: (954) 432-5681
Cooper City Pathfinder Revival Club Meetings:
Mission: To provide Cooper City Knights Pathfinder youth, assistance in completing weekly assignments, honors or any requirement for investiture.
Date: 2nd and 3rd Sabbath of each month.
Time: 2 P.M. to 3 P.M.
Address: 9250 Stirling Rd, Hollywood, FL 33024
Phone: (954) 432-5681
Please bring your Pathfinder Journal, Bible and Honor sheet (if applicable) to each meeting.
Club Fees:
Club registration fee is $50, per Pathfinder Youth.

Club bi-weekly dues is $2.00, per Pathfinder Youth.
Important Events/Dates:
April 25, 2020 all Journal and Honor assignments are due. 
Class Record Journal Links for download or purchase:
Class Journals are designed to creatively engage Pathfinders in the Investiture Achievement requirements. After each club meeting the Pathfinder will have assignments to complete from the Record Journal or Bible readings.
Friends Class (5th Grade)
Companions Class (6th Grade)
Explorers Class (7th Grade)
Rangers Class (8th Grade)
Voyager Class (9th grade)
Investiture Achievement curriculum
Pathfinder Forms and Honors:
Sterling Volunteers:
Mandatory Child Abuse Training and Background Check:
All adults eighteen years (18+) or older must Complete the Child Abuse Training and Background Check.
Mandatory Training and Background Check
Uniform:
The Uniform makes the organization real and visible, and it represent an ideal standard. It appeals to those not already members to join. The uniform strengthens the club spirit. The uniform should always be clean and neat.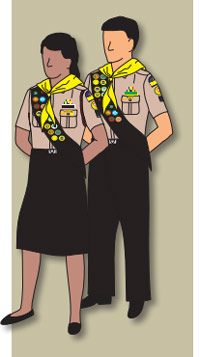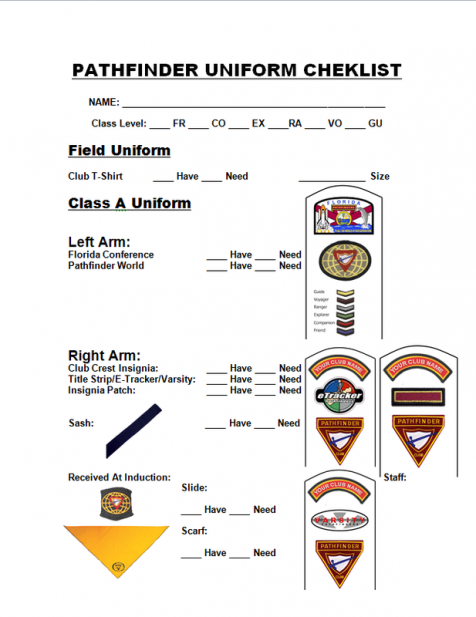 Helpful Resources:
Uniform, class materials, honors, awards and patches: