Pathfinders
The Florida Conference Pathfinder Department mission is to: train, equip and deploy an army of young people and to help them discover how they can play a vital role in advancing the mission of god here in Florida.
Leadership
The volunteer leadership, skilled in a myriad of unusual abilities and interests are, first and foremost, strong believers in Jesus Christ and are sure of the road they are taking towards eternal life. They consider the Pathfinder club an experimental laboratory where growth and learning are synonymous with fun. Failure is not expected, but rather all activity becomes a tool for learning.  
Activities
Activities encourage a range from community/civic service projects in their community and across the globe to nature and environmental conservation studies to camping and high adventure trips. Pathfindering challenges the unique talents of each member. 
Cooper City Knights Club Meetings:
Date: 1st and 3rd Sabbath of each month.
Time: 3 P.M. to 4 P.M. (time is subject to change depending on to the Sunset)
Where: Cooperciy Zoom Meeting Link
Address: 9250 Stirling Rd, Hollywood, FL 33024
Phone: (954) 432-5681
Club Fees:
Club registration fee: $50, per Pathfinder Youth.
Club bi-weekly dues: $2.00, per Pathfinder Youth.
Important Events/Dates:
Cooper City Knights Pathfinder Club Accomplishments:
2020-Club of the Year
2019-Honor Club
2019- Drill Competition, 2nd place.
2019-Knots' Relay Event, 2nd place. 
2019-Jump Rope Competition, 1st place.
2019-Tent Evaluation, 2nd place. 
Red Zone 2019 Recap View
Class Record Journal Links for download:
The Journals are on a "fillable PDF" format
Pathfinder Class Reading Books
Pathfinder Honors Categories
Pathfinder Forms and Information:
Sterling Volunteers:
Mandatory Child Abuse Training and Background Check:
All adults eighteen years (18+) or older must Complete the Child Abuse Training and Background Check.
Master Guide
Online Bible
Club Uniform:
The Uniform makes the organization real and visible, and it represent an ideal standard. It appeals to those not already members to join. The uniform strengthens the club spirit. The uniform should always be clean and neat.
Pathfinder Honor Sash is worn on the Right Side. On it, you should display your Adventist Youth class patches, and pins, honors earned, and commemorative patches.
      Sash is worn on the Right Side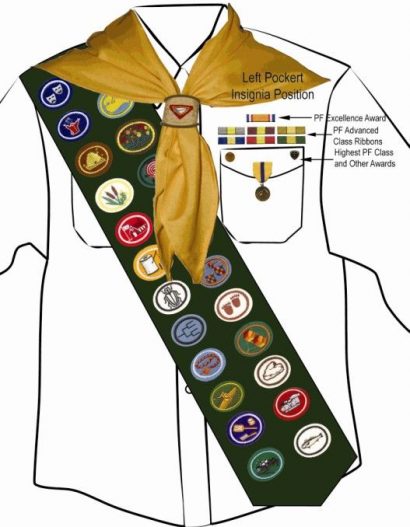 .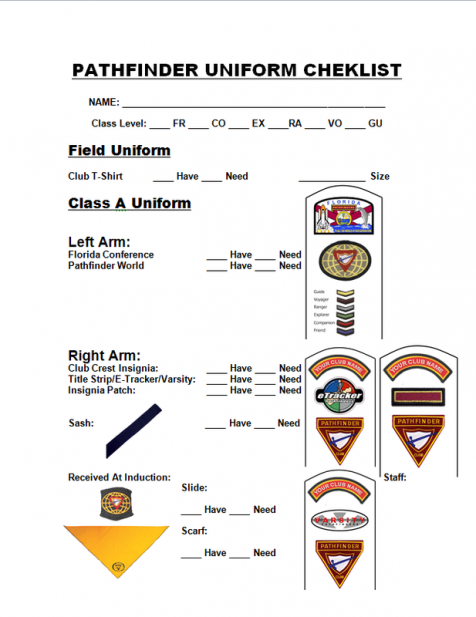 Helpful Resources:
Uniform, class materials, honors, awards and patches: